ARTISTS

ACTIVITIES
Don't miss our inflatable fun from Breeze or climb to dizzy heights up our 27 foot climbing tower.
N.B. It is Breeze policy not to allow face paint on inflatables, sorry.
DJ School UK will be showcasing their talent in the silent disco tent with the opportunity for you to find out what it takes to be a DJ.
You'll have the photo-perfect opportunity to find your community project piece constructed by the fabulous Jenna Bobenna as well as getting creative with the return of the popular supersize cardboard city!
Launch yourself towards Red Bill Air Race with their paper plane creation with launch pad and fun too!

STALLS
Why is Farsley Festival different?…. because every stall holder provides an activity and there's no actual selling taking place!
"You can have fun without putting your hand in your pocket…unless you wish to of course!"

FOOD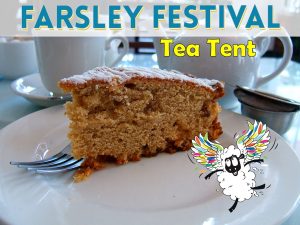 The Farsley Festival tea and cake tent is back! Please do come along and taste the delights of our local cake bakers plus all money raised goes straight back in to the Festival.
This year we continue to progress towards reducing waste and single-use plastics:
Please do try to bring your own reusable cups.
We have also encouraged our other vendors to use sustainable and recyclable products too.

THANK YOU!
and of course, the Farsley Festival team…
Fiona Killen, Helen Riley, Chris Dunne, Richard Warren, Sarah Cropley, Pat Trenaman, Ann-Marie Keighley, Christine Birks